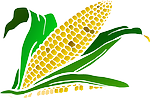 MANY SENIORS LOVE CORN ON THE COB BUT JUST CAN'T EAT IT WITHOUT HAVING TROUBLE WITH DENTURES FALLING OUT. SO MANY JUST PASS IT UP. HERE IS A YUMMY WAY OF LETTING THEM ENJOY THE YELLOW GOLD!  LINDA'S HOMEMADE CREAMED CORN:
8 EARS OF FRESH CORN ON THE COB
1/2 STICK BUTTER
1 AND 1/2 CUPS HEAVY WHIPPING CREAM
1 CUP CHICKEN STOCK ( I LIKE COSTCO'S KIRKLAND BRAND) — USE CHICKEN STOCK, NOT BROTH
SALT TO TASTE
3 TABLESPOONS FLOUR
PARMESAN CHEESE /OPTIONAL
WITH A SHARP KNIFE TAKE THE CORN OFF THE COBS, MAKE SURE YOU GET ALL THE MILKY JUICES WITH IT.  ADD THE BUTTER, STIR, ADD CHICKEN STOCK, STIR, ADD HEAVY CREAM, STIR. SPRINKLE FLOUR IN AND CONTINUE TO STIR. IF THE CONSISTENCY IS TOO THICK ADD MORE CHICKEN STOCK. SALT TO TASTE. SOME PEOPLE LIKE TO MADE IT CHEESY SO ADD YOUR FAVORITE CHEDDAR OR PARMESAN CHEESE. LOOK FOR MORE OF MY FAVORITES!!
ENJOY